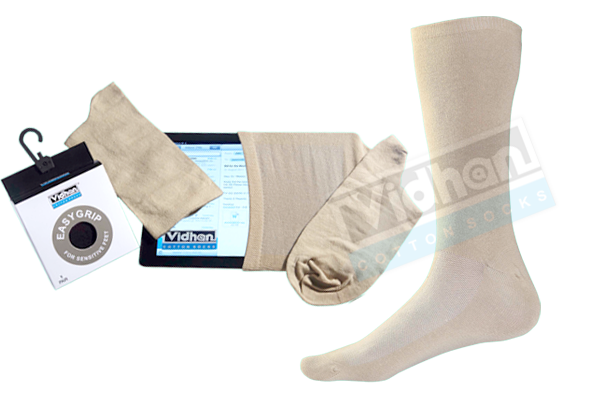 NO ELASTIC: Let your feet breathe easy
No-elastic socks put an end to unpleasant constriction.
Gentle grip top won't restrict blood circulation.
Seamless with handlinking give comfort to toes.
For women & men
Easy Grip Socks Are TOP QUALITY COTTON RICH. For all day comfort and has a soft non-elastic gentle top. These Socks have been produced using the finest yarns, and knitted on the latest computerized knitting machines for generous fit, luxurious feel, good durability a lasting wear.
These superb, soft-grip socks won't leave ugly marks on your skin or restrict your blood circulation, because they're made without elastic. They still hold up properly to prevent infuriating and embarrassing bagginess! Supremely comfortable for all wearers – especially for those who suffer from circulatory problems or swollen feet, ankles and calves.
We recommend EASY GRIP SOCKS for diabetic people.
Extra wide, extra long for those with diabetes. Arteries can become rigid and blocked and fail to bring adequate blood, oxygen, nutrients and medications to injured areas of the body. Poor circulation in diabetics contributes to numerous problems occurring in the legs and feet, such as low healing of injuries, bruising and damage to the arteries and nerves.
Easy Grip Socks have multiple benefits for those suffering from the symptoms of diabetes. They are non-compressive and non-elastic, allowing proper circulation and preventing blood pooling in the feet. A unique knit top means the socks stay up without tightness, binding or marking whilst the knitting process gives the socks an ultra-soft handle.